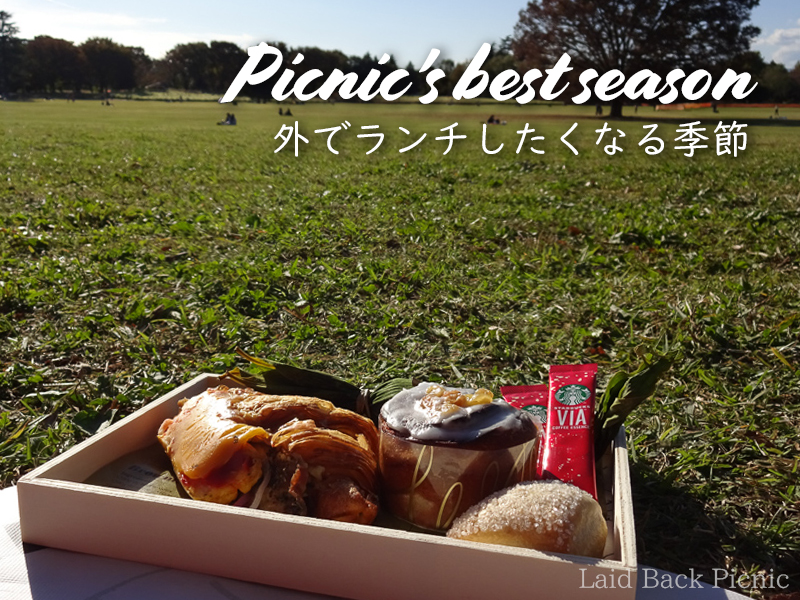 There is a town on the east side of Tokyo that is suitable for picnics.
The name of the town is "Tachikawa".
By taking JR Chuo Line from Shinjuku, you can directly go to Tachikawa without any transfers.
※ An English translation of an article published in November 2018 in a Japanese blog.
Let's walk Tachikawa before picnic
The wonderful bakery cafe I found in Tachikawa is about 10 minutes walk from the park.
Walk a little and you should know the atmosphere of Tachikawa.
I first went to buy bread for a picnic.
NEIGHBORS BRUNCH
Walk 10 minutes from Tachikawa Station and you will find a bakery cafe.
Lunch at the cafe is also good value, but I recommend that you take bread and go to the park.
Outside seating looks good too.
Lunch menu
There are several lunches you can eat at the cafe, but the only thing you can take away is the "Spanish-style omelette croissant sandwich".
There is also bread sold as a bakery.
Bring a warm sandwich and hurry to the park!
My picnic foods
If you walk about 20 minutes from NEIGHBORS BRUNCH, you will find the very beautiful Showa Memorial Park.
The park is very large, with free place and paid places.
I also enjoyed cinnamon roll and scones together.
Showa Memorial Park Recommended Sweets
There are several stands in the park.
Ice cream is also on sale at Harappa Central Stand.
Hokkaido premium vanilla 400 yen

Enjoy your picnic!
Shop & Park Information
NEIGHBORS BRUNCH
Address:Nishiki-cho 1-chome 9-14, Tachikawa, Tokyo
Tel:050-5303-3749
Opening hours:
Weekday 11:00~18:00
Sat, Sun, Holiday 10:00~18:00
Regular holiday:every Wednesday
Website:https://neighbors-brunch.com/
 Train
 Showa Memorial Park (Akebonoguchi exit):19 minutes on foot to NEIGHBORS BRUNCH
Showa Memorial Park
Address:Midori-cho 3173, Tachikawa,Tokyo
Tel:042-528-1751
Dates closed:The blue on the calendar on the website is a closed day.
Admission fee※Fees for groups etc. are different. 
Adult (15 years old ~) 450 yen
Child (junior high student) 0 yen
Elderly (65 years old ~) 210 yen
Website:Opening Hours and Closure | 国営昭和記念公園公式ホームページ
 Train
Tachikawa Station:7 minutes on foot from Kitaguchi to Showa Memorial Park (Akebonoguchi) (JR: Chuo Line, Nambu Line)
Have a nice day