I found a fashionable cafe. It looks like a famous cafe.
Share my sweets I ate on a hot day.
※This article is an English translation of an article posted in May 2019.
Read this article in Japanese / 日本語で読む
About CANVAS TOKYO
This coffee bar is a 4-minute walk from Hiroo Station.
You can enjoy food and drinks from 3 shops.
Mark Espresso:coffee
Ramey Circus:Smoothies, jam soda, snacks
nico donut:Popular Donut Shop in Azabujuban
Price
Blueberry jam soda 626 yen(tax included)
Plain donut 216 yen(tax included)
Purple yam milky donut 259 yen(tax included)
Total
 1,101円
There is also a popular pearl milk tea.
Ramey Circus
The shop that is making blueberry jam soda is "Ramey Circus".
It was a hot day in Tokyo so I ordered a cold drink.
The sweetness is a refreshing drink as it contains some sliced lemon.
Five-grade evaluation of drink
Sweetness:★★★☆☆
Gas:★★★☆☆
Overall balance:★★★★★
My preference:★★★★☆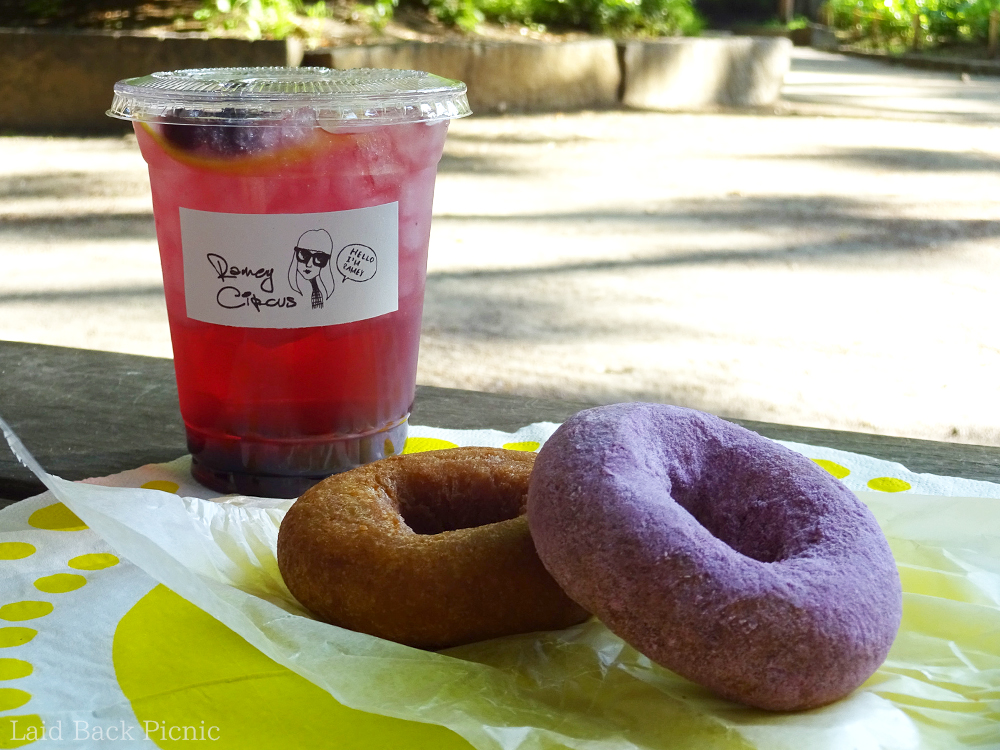 nico donut
※Left:Plain donut, Right:Purple yam milky donut
A popular donut shop in Azabujuban "nico donut".
"Nico Donut" is a shop that makes donuts that make use of the flavor of materials such as soy paste and cereal powder.
Both donuts are simple sweet, soft and moist.
Five-grade evaluation of donuts
Sweetness of plain donut:★☆☆☆☆
Sweetness of purple potato milky donut:★★☆☆☆
Softness:★★★☆☆
Bread go well with coffee:★★★☆☆
My preference:★★★☆☆
On that day I took a picnic on the bench of "Arisugawa-no-miya Memorial Park", a 3-minute walk from Hiroo Station.
Shop information
CANVAS TOKYO
(As of May 2019)
 5-19-6 Hiroo, Shibuya-ku, Tokyo
 03-6432-5700
 11:00~20:00
 Train
Hiroo Station:4 minutes on foot from Exit No.2 (Tokyo Metro:Hibiya Line)
Ebisu Station:14 minute on foot from East exit (JR:Yamanote Line, Saikyo Line, Shonan Shinjuku Line / Tokyo Metro:Hibiya Line)
お題「今日のおやつ」today's sweets:doughnut
See you at the next picnic!