Wow! It is a melon-pan that looks as if it were cracked.
I share the melon-pan of "ecru" in hiroo that I ate at the beginning of the "Journey for Melon-pan".
※This article is an English translation of an article posted in June 2019.
Read this article in Japanese / 日本語で読む
Bakery "ecru"
Located on the first floor(grand floor) of the "APA Hotel Nishi-Azabu", which is about a 5-minute walk from "Hiroo Station", there is a bakery outside the hotel for take-away.
Breakfast is usually 1,836 yen (tax-included), but if guest requests before check-in, it is 1,500 yen (tax-included).
My Melon-pan level:1
About Melon-pan
This melon-pan looks like a crack of lava. 
 Cookie dough with a soft texture than it looks.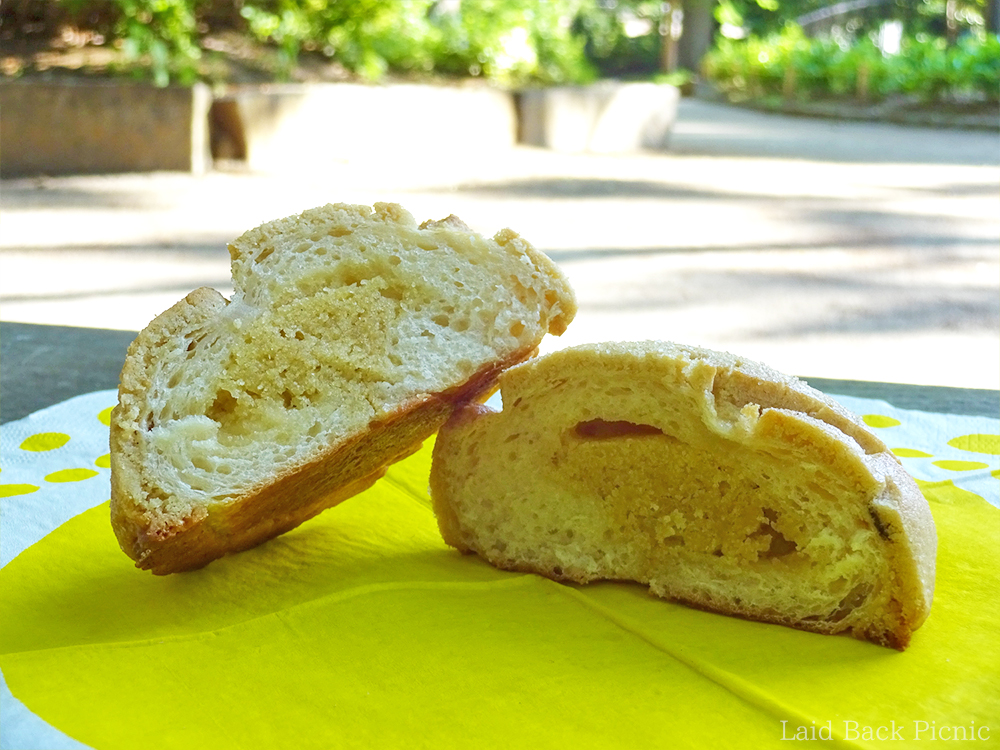 Bread in the bread?
Yellow bread dough is more fluffy than white bread dough.
Melon-pan information
Price:250円(+ tax)
Crunchy texture:★★★☆☆
Fluffy texture:★★★★☆
Sweetness:★★★☆☆
Size:About 8 cm in diameter (Abou 3 in)
On "Melon-pan maps", there is a shop of Melon-pan I ate.
Shop information
ecru
(As of May 2019)
 4-5-1st floor(ground floor), Nishi Azabu 4-chome, Minato-ku, Tokyo
 03-5284-9230
 7:00~20:00
Breakfast 7:00~10:00 (final entry 9:30)
Lunch 12: 00~17: 00
Bread sales 11: 00~20: 00
 Closed every Monday
 https://www.facebook.com/ecru1010/
 Bakery "ecru" | [official] APA hotel | 
 Train
Hiroo Station:6 minutes on foot from Exit No.4 (Tokyo Metro:Hibiya Line)
Roppongi Station:12 minutes on foot from Exit 1C (Tokyo Metro: Hibiya Line / Toei Subway:Oedo Line)
お題「マイブーム」 I'm crazy about Melon-pan
See you at the next picnic!