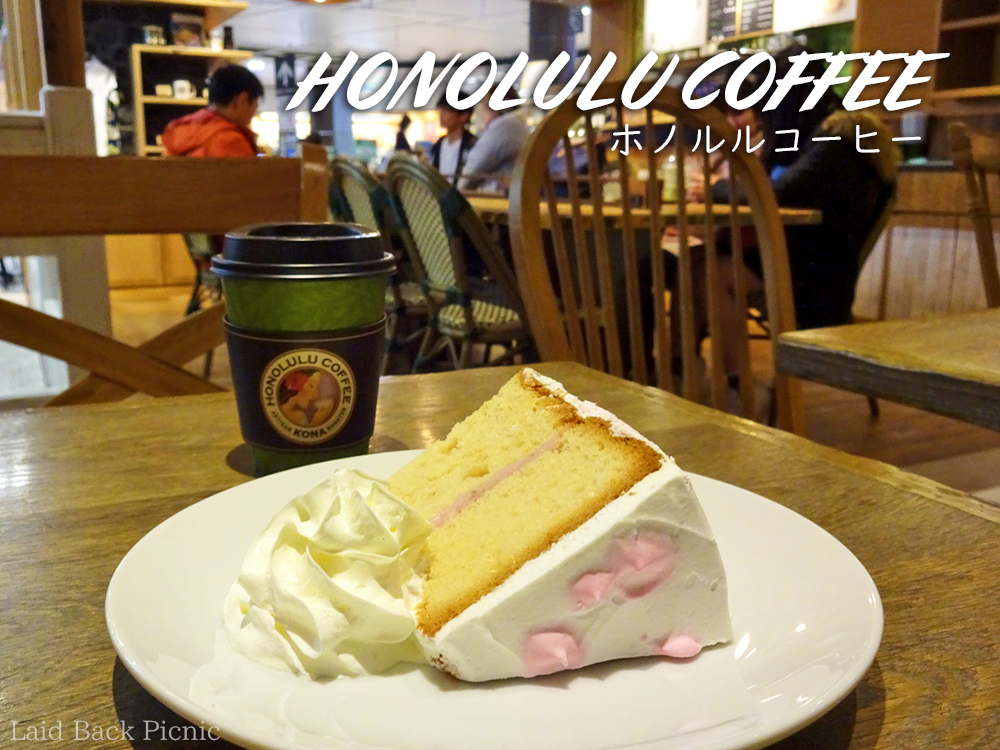 Discovery! Sakura sweets!
After seeing cherry blossoms, I found a cherry cake at a Hawaiian cafe.
This week's theme is "Cafe & Sweets near Picnic Place".
※This article is an English translation of an article posted in April 2019.
Read this article in Japanese / 日本語で読む
I started Twitter (@FUGASHI_2018). 
About HONOLULU COFFEE
"Honolulu Coffee" in Japan is a cafe that offers Kona coffee.
Besides Tokyo, there are cafes in Osaka, Okayama, and Fukuoka.
When I visited in spring I found a SAKURA chiffon cake.
Do you know if this cake is sold in Hawaii?
It was about a 10-minute walk from the "Sakura Plaza" in Makuhari, Chiba, where I went earlier April.
The taste of cherry chiffon 
This is SAKURA chiffon cake.
A white bean paste with cherry leaves in a chiffon cake is sandwiched.
SAKURA chiffon cake ¥480
KONA BLEND COFFEE ¥380
Five-grade evaluation
Sweetness:★★★★☆
Sweets to match with coffee:★★★★☆
My preference:★★☆☆☆
Shop information
HONOLULU COFFEE Makuhari
 Grand mall 2F, 1-1 Toyosuna, Mihama-ku, Chiba-shi, Chiba
 10:00~22:00
 53 seats
 electrical outlet:〇
 http://www.honolulucoffee.co.jp/ (Japanese text)
 Train
Kaihin Makuhari Station:About 25 minutes on foot (JR Keiyo Line)
 Bus
Kaihin Makuhari Station:Bus about 8 minutes (Free transfer on weekdays, route bus on other days)
※ There is detailed traffic information on the official site of Aeon Mall Makuhari
(Japan Shopping Gourment Entertainment Mall | AEON MALL Makuhari New City / lang.:English, 简体, 繁体, 한국, ไทย, Việt Nam)
お題「今日のおやつ」  Today's sweets:sakura chiffon cake
お題「コーヒー」 coffee
See you at the next picnic!